University College London – 3D Body Scanning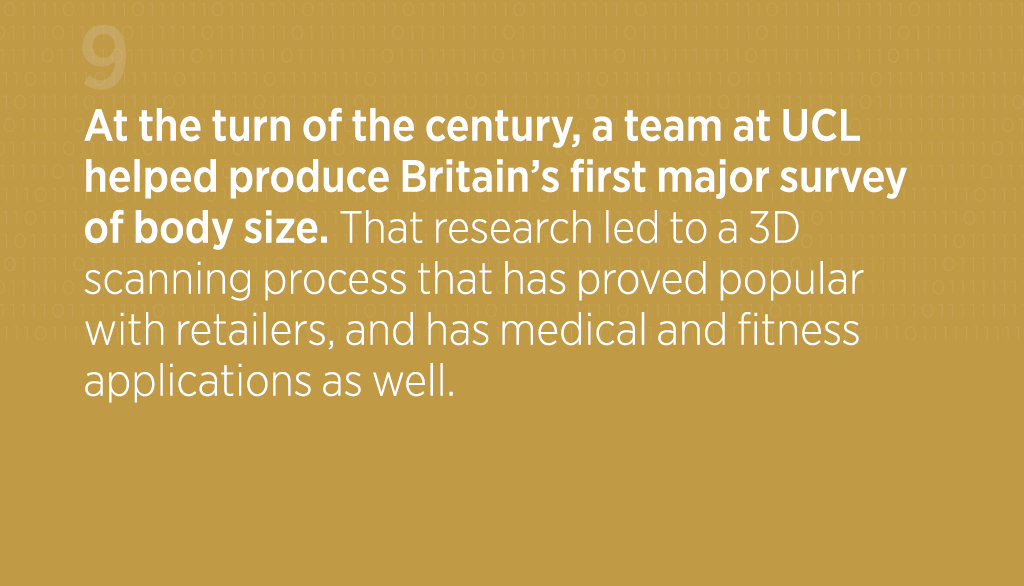 Did you ever get the feeling that your clothes didn't quite fit like they should?
Using 3D human body measurement, researchers have been working on a way to make the latest styles just that little bit more comfortable.
"In the past, companies used to measure clothing sizes using fit models and tape measures", said UCL's Professor Philip Treleaven. "The fit models were based on the company's estimate of the size and shape of the average customer. They weren't particularly precise."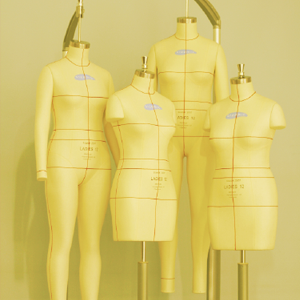 What did this mean for customers? For one, it meant that clothing might not be quite the right fit for most people, whether it was tight on the collar, loose on the shoulders or a little too snug around the waist.
At the turn of the millennium, Professor Treleaven's team started working on a solution, using 3D scanning. Throughout the mid-to-late nineties, they had developed the first size-extraction software for the Hamamatsu 3D scanner, which allowed them to draw linear measurements from a point cloud of data.
The team – and indeed the UK government – thought the technology would be prefect for cataloguing the size of the nation, and devising a size chart that would suit a modern population. A study was born, funded by a £2m Department of Trade and Industry grant and £2m pooled from 14 major UK retailers.
"That's where the national sizing survey started", said Professor Treleaven. "We measured a statistical sample of the population, and worked with clothing companies so that retailers would know exactly what an average size 12 person's body really was.
"The publicity was great. We were told that it was the most popular piece of work with the general public that they'd ever funded."
SizeUK was Britain's first national sizing survey. The UCL team worked with an American company called TC2 to develop the size-extraction software. Between 2001 and 2002, measurements were drawn from more than 11,000 people nationwide, selected from both genders, different ethnic and socio-economic groups, and seven age groups from 16 to 95.
They were scanned with a TC2 body scanner, which Treleaven describes as "like standing in a big telephone kiosk". The process would pick out key measurements such as chest, hips and waist. Fellow UCL professor Bernard Buxton developed an algorithm that would calculate average body sizes from the cloud of data created by the survey.
"The body scanner scans you like a flat-bed scanner, but in three dimensions", said Professor Treleaven. "It means you can extract measurements like size and shape very accurately."
The project didn't just involve measurements. It required a system of data management that could automate registration, store results and protect data that might be considered sensitive.
The idea caught on. Retailers such as Tesco, Arcadia, Next and Marks & Spencer participated in the process, and now all major UK retailers sell clothing that is based on the resulting size charts. Other countries came calling too: Professor Treleaven's team soon found themselves busy with SizeUSA, as well as surveys in Germany, France, Mexico, Sweden and Thailand. In Thailand, there has been a drop in overall clothing alterations of roughly 35%.
While it used to take up to five iterations to make a sample that was approved by the retailer, that number has now halved. That has decreased product development time by at least 25%.
"It took off around the world", said Treleaven. "Governments like it because it's popular science. It's not like explaining DNA coding or quantum computing. You could go into a pub and explain it, and everyone would get it."
Retail companies loved it too. A spin-out launched in 2000 called Bodymetrics develops body scanners for clothing stores. At Selfridges in London and Bloomingdales in west coast USA, customers can step into pods to discover which brand of jeans might suit them the best. Three years after it started being used in 2009, the pod accounted for 20% of premium jeans sales at Selfridges.
In 2008, the team set up another spin-out company called Sizemic to sell charts and mannequins based on this data. The mannequins are both physical and virtual, and are far more accurate than previous alternatives. Seismic has now grown into a 10-employee company with a turnover of £1m.
The results have proved useful beyond the clothing industry as well. Using data from the SizeUK, SizeUSA and SizeTHAILAND surveys, Professor Treleaven has been working with Professor Jonathan Wells at UCL's Institute of Child Health on studies into obesity.
Under the umbrella of another spinout called ShapeDynamics, they have developed a 3D system for GP surgeries that compares a patient's measurements to the size survey, plotting how they vary from the norm. The process could be particularly useful in detecting traits such as stomach shape, which could indicate a propensity for Type II diabetes. Since 2011, 240 patients have been scanned as part of trials in a large practice in the City of London.
Professor Treleaven believes the applications stretch to many different areas, from showing how people would look after they increase exercise or stop smoking to demonstrating the outcome of cosmetic surgery.
"For example, we think you could use these body scanners for sport", he said. "You can use it to track how people's bodies change during exercise, and you can also identify talent using kinanthropometry. A world-class swimmer has hands and feet like dinner plates and a body like a beanpole, and we can pick that out."
However, for the UCL team, the big change is coming as the technology becomes more accessible.
"The showstopper is going to be the arrival of a cheap and easy-to-use scanning system. When we started body-scanning, the scanners cost about $100,000, and could do about 10 measurements. We had to work with a scanner company to allow us to be able to improve that to 150, but now we can do an unlimited amount.
"Some parts of the body are still difficult. For example, if you're scanning someone's head, the hair deflects the system so you have to do it manually. But now the price of scanners has dropped to £7,000. If you can get that down to under £200, then people could have one in their bathroom. And then the possibilities are huge."
Links to Additional Information
Virtual Environments and Computer Graphics Group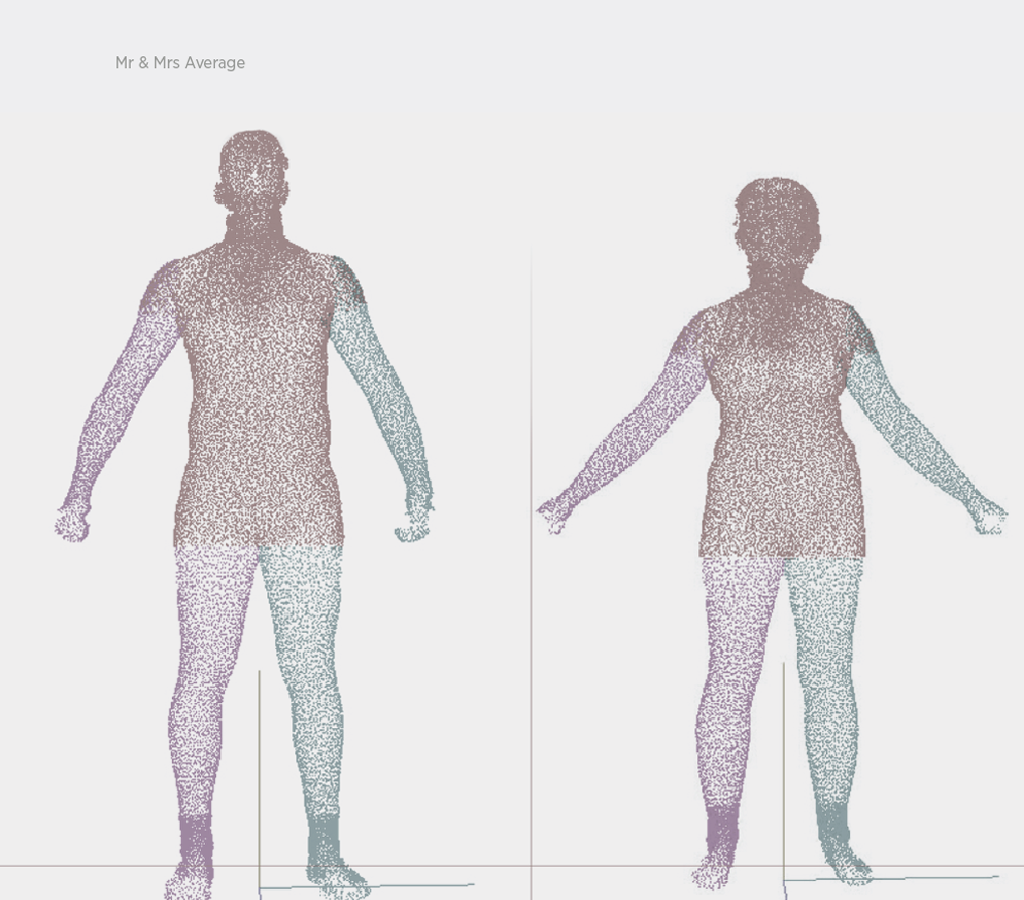 http://cs-academic-impact.uk/3d-scanning-process/
Case Study
Did you ever get the feeling that your clothes didn't quite fit like they should? Using 3D human body measurement, researchers have been working on a way to make the latest styles just that little bit more comfortable. "In the past, companies used to measure clothing sizes using fit models and...
Naomi
Atkinson
naomi@naomiatkinsondesign.com
Administrator
Impact